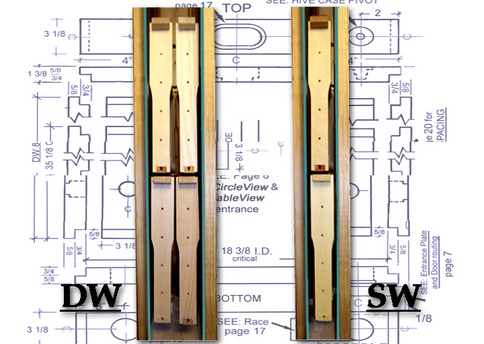 Observation Hive Case Options
The STANDARD HIVE CASE
from Bonterra Bees
comes in two Case widths;
"DOUBLE WIDE" DW & "SINGLE WIDE" SW
Please Note:
We recommend a DW, double-wide Hive Case for:
NEW BEEKEEPERS
COLD WINTER AREAS
(Areas with more than 60 contiguous "no-fly" days where temperatures are less than 45 degrees combined with rain and\or snow)
LOW MAINTENANCE
(Our 6,8 & 10 frame DWs may only need minimal maintenance)
PUBLIC EXHIBIT CENTERS and SCHOOL CLASSROOMS
(Where minimum upkeep and maintenance are desired)
FERAL HIVE MODE
(all our Observation Hive Cases are designed for Feral, natural colonies, as opposed to honey production Hives)
We recommend an SW, single-wide Hive Case only for:
EXPERIENCED BEEKEEPERS
(who have supplementary honey and brood resources available to be added to the Observation Hive, if needed)
YEAR-ROUND WARM AREAS
(that have few "no-fly" days and nearly continuous bloom resources)
AS A LAB OR STUDY HIVE
(for higher level school and institutional Bee study programs)




We are often asked:


How often will I see the Queen in a DW vs. a SW?

In our experience this is a non-question. In a DW the Queen will be on the outside every day in the foraging and brood season, laying eggs and searching for clean cells. Indeed some of the time she will be between frames.

There are so many other activities by other Bees, bringing in nectar and pollen, storing honey, packing pollen, building comb, new bees emerging and nursing the Brood, and watching those amusing, lazy, unavailing Drones. You'll want to see the whole Colony do it's thing. You will see the Queen often and sighting her and watching her will be even more exciting.


Most importantly, the DW offers better "clustering" during Winter and that is essential to a colony's well being.




Choose your Observation Hive Case width option
and the number of frames in your Observation Hive Case
The DW 6

is 2 frames wide and 3 frames high for a total of

6 frames.

The DW 6 observation hive is ideal for all climate areas and is recommended for areas with cold winters. It requires minimal attention and the double frames allow for stronger "clustering" in the winter mode.

Great for all level beekeepers.

The DW 8 & DW10

are 2 frames wide and 4 & 5 frames high for a total of

8 & 10 frames.

The DW 8 & DW10 honey bee observation hives are a full size hives without honey supers. They are for all climate areas and are especially recommended for areas with severe, long winters. They may not require maintenance for many years.

In good bloom areas you may, optionally remove surplus honey.

Great for all level beekeepers

The SW 4 & SW5


are 1 frame wide

and 4 & 5 frames high for a total of

4 & 5 frames.

In the SW 4 & SW5 observation bee hives all the action is always visible. These are great study hives but may require fall or spring maintenance to insure honey stores and brood are in balance.

For practicing

Beekeepers.




May require

maintanance.